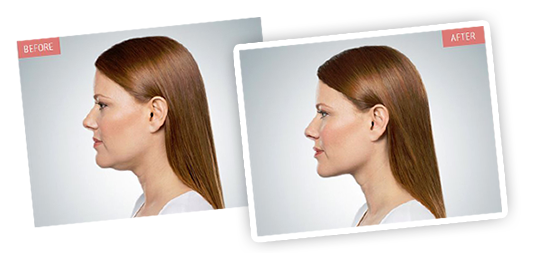 Kybella might be a blockbuster – the next Botox® – because a simple injection or two of Kybella will vanquish that double chin (that troublesome fat pocket under the chin or fat/loose neck skin) as easily as Botox disposes of facial wrinkles! No surgery, no liposuction, no incisions, no operating room, no laser, no downtime – just a simple office treatment and you get a cleaner, more youthful "right angle" look to the neck!
Dr. Back was involved in some of the research for Kybella. He reviewed dozens of before and after photo's to see if the results of this simple treatment could possibly be comparable to those one would expect from invasive and more expensive surgery – the answer again and again for both men and women was "absolutely yes"! The FDA approved Kybella as safe and effective earlier this year. Now the only question is, will there be enough of this stuff to go around?
The phones are already ringing off the hooks at our office! The lunchtime facelift/necklift in a bottle concept just got one major step closer to reality – a more youthful neck (Kybella) to go with that smoother skin (Botox) and those fuller lips (Restylane) all created within just minutes – with just a brief visit to our office!
(Individual results may vary)