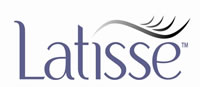 If the eyes are the windows to the soul… the eyelashes are the window treatments! Long, soft, lush eyelashes naturally highlight the eyes and can give the face a more youthful, dramatic, sexy, and very feminine look. Thinning, sparse, or light eyelashes tend to create an older and harsher appearance. Latisse® is the only FDA approved treatment for thinning eyelashes – and it really works! Over 80% of those trying Latisse® will see clinically significant improvements – longer, thicker, fuller and darker eyelashes – within 3 months of use!
Latisse® Treatment
Latisse® is applied at night, after the face has been cleaned and all eye make-up is removed. Contact lenses must be removed but can be replaced 15 minutes after treatment. One drop of Latisse® is placed on one of the special supplied disposable applicator brushes. Simply brush the base of the upper eyelashes, where the lashes meet the skin, from the inner part of your lash line to the outside. You're done!
What To Expect
Thicker eyelashes won't happen overnight, but most people begin to see at least some improvements within just a couple of weeks! Latisse® works gradually over time. For best results, Latisse® should be consistently applied every night. Full results should be apparent within 3-4 months of regular use. Follow-up Latisse® applications will allow you to maintain your thicker, longer and darker eyelashes indefinitely!
For complete details and product information, click here to view the manufacturer's (Allergan) information.
Dr. Back makes it easy – click here for details!
If you are interested in Latisse for Fuller Longer Eyelashes or any other of our cosmetic procedures in Cherry Hill, click here to arrange a private consultation with one of our Certified Cosmetic Skin Care Specialists.
Read Dr. Back's article "The History Of Cosmetic Eyelash Enhancement"
To read more articles written by Dr. Back about Facial Procedures, click here!
*Results will vary with each individual