Strawberry Laser Lipo
No recovery time – walk out and go back to your day!
Non-invasive – no incisions, no surgery, no discomfort!
"Melts the fat away! I saw immediate results!" – Sue S.
The area's only authorized Strawberry Laser provider.
---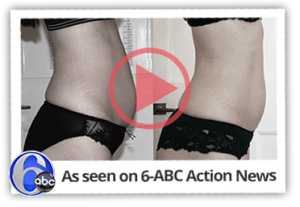 The Strawberry Laser is completely non-invasive, completely non-surgical, and completely non-painful! FDA cleared for U.S. use, the Strawberry Laser has been successfully melting the fat and recontouring the figures of millions of patients in over 30 countries for several years. When liposuction or other surgical body contouring procedures are less desirable options, Strawberry Laser treatments can yield noticeable, measurable results. Most patients will see a difference with their very first treatment session! We've grown accustomed to our patients being thrilled with the results – right from their very first session!  Just take a look at some typical "before and after" Strawberry Laser Lipo treatment photos – click here!
The Strawberry Laser helps our patients reshape their bodies – without liposuction, without surgery! Why not trim down those annoying, trouble spots of bulging fat by melting them away?! For patients looking for a simple "walk in, walk out" alternative to surgery, without any restrictions or downtime, the Strawberry Laser is a safe, affordable, non-invasive option that can achieve very reasonable results. Most patients will achieve their goals with a series of 6 -10 treatment sessions – just two a week – within only about a month! Results may vary.
For both men and women looking to shrink down pockets of unwanted fat from their arms, back, sides, hips, thighs, or abdomen, this safe, time-saving, cost-saving treatment can be ideal. The Strawberry Laser can help with everything from love handles, to spare tires, to saddlebags, to muffin tops!
Why is it called the "Strawberry Laser"?
You'll see it when you get your first treatment – the laser unit is about the size of a basketball, and shaped like a big strawberry! It's hard to believe that something so small and innocuous looking has the power to melt fat and reshape the body – without any surgery, pain or discomfort. But just like a real strawberry can, the Strawberry Laser uses the body's natural mechanisms to help you lose inches of fat and recontour your shape!
How Does the Strawberry Laser Work?
Can a "strawberry" melt the fat away? The answer is yes, yes, yes! The Strawberry Laser Lipo system has an array of multiple tiny "cold" lasers which shine harmlessly and painlessly on the surface of your skin, passing quietly into the fat tissue underneath, where the laser stimulates your fat to melt! The liquefied lipids are then transported away by your lymphatics and expelled from the body the exact same way as if the fat had been burned off by exercise! We recommend a series of 6 – 10 treatment sessions for best results, during which most patients will experience real, measurable reshaping results! No pain, no restrictions, no downtime!
What are the treatments like?
Step One: Our experienced staff members will take a some before treatment measurements and before treatment photos.  Then recline and relax on our treatment table!
Step Two: The Strawberry Laser paddles and their wraps will be placed on all the intended treatment areas. 10 minutes will complete one treatment. An additional 10 minute treatment may be needed for some areas because of the fat shape, distribution, size or location. 20 minutes is the maximum amount of fat melting treatment time that can be done during one session/office visit.
Step Three: After treatment measurements and photos will be taken to determine the inch loss for the day and the overall progress to date.
Step Four: 10 – 15 minutes on the Whole Body Vibration Unit will help stimulate the lymphatics and improve circulation to accelerate the flushing of the liquefied fat out of your system and you're done!
Results
With a simultaneous regimen of consistent, proper exercise and diet, a series of Strawberry Laser treatments will provide very reasonable body reshaping results and inches lost. A series of 6 – 10 treatment sessions (two sessions a week) within a month's time usually works best.
Strawberry Laser Lipo – "Before & After" Treatment Photos: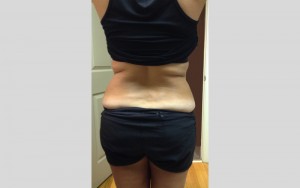 Results may vary.
These images are real "before and after" Strawberry Laser treatment results from our patients.
Most patients will see noticeable, measurable improvements even after just one 10 minute Strawberry Laser treatment!*
Benefits
While we wholeheartedly recommend exercise, proper rest, and diet as important complements to maximize the effects of your Strawberry Laser treatments, we also recognize that a busy schedule makes time a precious commodity. Can you spare 10 minutes a couple of times a week to lay back and relax while the Strawberry laser melts your fat? Then it's back to your normal activities right away, with no downtime, restrictions or special instructions. You can save time and money while at the very least significantly jumpstarting your long-term reshaping goals with the minimal time commitment of Strawberry Laser treatments!
FDA Cleared
The national Food and Drug Administration has approved the Strawberry Laser (full 510(k) medical device clearance) for use in the United States as a safe and effective, non-surgical, legitimate treatment for fat melting and body reshaping.
Non-Surgical
Liposuction and other surgical body contouring techniques can be wonderful and very effective, but there are always risks involved for surgery. There are also things like swelling, bruising, healing, recuperation and down time to deal with.  Strawberry Laser sessions are painless, fast, "walk in, walk out" treatments with no downtime whatsoever. You can get noticeable results with a series of Strawberry Laser treatments simply and non-surgically* .
Dr. Back makes it easy – call (856) 751-7550 or click here for details!
Read Dr. Back's article "Can A Strawberry Melt The Fat Away?"
To read articles written by Dr. Back about Body Surgery, click here!
People who viewed this page also viewed these pages:
*Results will vary with each individual