For a limited time…
Purchase a Strawberry Laser Lipo or Verjú Green Laser
Package of 8 Treatments
For ONLY $1200!!!
A $400.00 Savings!!!
The Strawberry Laser Lipo system has an array of multiple tiny "cold" lasers which shine harmlessly and painlessly on the surface of your skin, passing invisibly into the fat tissue underneath, where the laser stimulates your fat cells to empty! The liquefied lipids are then transported away by your lymphatics and expelled – the exact same way as if the fat had been burned off by exercise!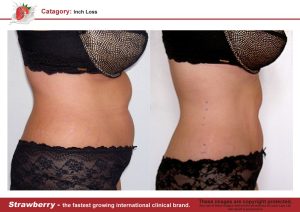 The Verjú Green Laser is a non-invasive, pain free office treatment which improves the appearance of cellulite for the lower abdomen, thighs and buttocks!  There are no incisions, no injections, no surgery and no recovery!  The painless green laser beams sweep harmlessly over any areas of cellulite that you might have, shrinking the bumpy fat cells just under the skin which are causing the problem, smoothing out the skin!
It's Time To Get Ready For The Holidays !!!
Call today for details – 856-751-7550